Grilling Pizza
Homemade Pizza Outdoors
Basic Steps To Outdoor Pizza Perfection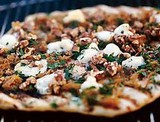 By Grilling Pizza, you can achieve results that will remind you of the pizza baked in a wood-burning oven. The grilling process gives it a crispy crust and deliciously smoky flavor. Most people do not own a wood-burning stove, but do own a grill, making grilling pizza convenient and possible to do in most households.
Grilled pizza makes a perfect appetizer for a barbecue party. As it is always a good idea to feed your guests something before the big event, they can sip on drinks while enjoying small pizza slices hot off the grill. You will notice how it keeps the curious from opening the grill lid while the main dish is being cooked later on.
This method of grilling pizza is simple, and makes great grilled pizza, whether cooking on a charcoal or gas grill. Because of the ability to control the heat more accurately, this pizza grilling method is a little easier on a gas grill. But great results can be had on a charcoal grill, also.
Be sure to expect some failures. It happens sometime. Try grilling pizza for close family first, then make it for friends. Once you get the techniques of grilling pizza down pat, the pizza delivery person might as well forget about showing up at your house ever again.
The pizza grilling process relies on the ability to use indirect heat. With one burner (or the side where the charcoal is, if using that) on high, the dough (homemade pizza dough recipe below) is placed right on the grill rack, grilled face-down for a short time, then flipped right-side-up, ready for the toppings.
Place Pizza stone (if desired...You can also place pizza directly on the grill) on the "cooler" side, close, the lid, and Let the stone get hot (about 10 minutes). Place the pizza on the hot stone and close the lid. Check the pizza every 5 minutes to make sure it does not burn. It should be ready in about 15 to 25 minutes, depending on your grill temperature and thickness of the dough.
It takes some practice and some timing on your part to get the crust just right, but you will. Have some patience, and in time it will be worth the effort!
Homemade Pizza Dough
Unlike many pizza doughs and pizza dough recipes, this one does not require refrigeration for easier handling. Once the pizza dough is prepared and frozen for later, you can come home from work and have delicious grilled pizza on the table by sundown (This pizza dough recipe can be prepared and frozen for up to 3 months. Just thaw it in the refrigerator overnight before preparation).
Ingredients:
1 1/2 cups warm (105 to 115 degrees) water
1 package dry yeast
2 teaspoons salt
1/2 teaspoon garlic powder
1/4 cup extra-virgin olive oil (plus some for the mixing bowl)
4 cups all-purpose flour

In a large bowl, mix together the water and the yeast, and let stand for 5 minutes. Stir in the salt, garlic powder, and olive oil. Stir in about 3 1/2 cups of the flour, until a soft dough is formed. Let the dough rise until it is light and puffy, or about 2 hours.
After kneading, punch it down and divide the dough into 4 portions. Wrap each portion tightly with plastic wrap, then freeze.
Thaw the pizza dough in the refrigerator the night before grilling. Coat the thawed dough with oil, then let rise at room temperature. When doubled in size, roll out the dough into thin rounds, ready for the toppings.

There's More Ideas For Grilling Pizza and Pizza Toppings Here





SBI!