Tailgating Supplies
& Tailgate Party Essentials
---


You can hold a ho-hum tailgate party and have some fun before a game. Or, with the right tailgating supplies and ideas, you can have tailgate parties that you and other sports fan friends will remember long after the games are over.
A few good tailgate party ideas will get you started on your way to the best pre-game parking lot fun you've ever had. And you might just start some great traditions among your circle of friends.
---
It has become prohibitively expensive to attent a sporting event. Tickets in the hundreds of dollars...$8 beers...$6 hot dogs...where does it stop?
Most sports fans can't afford these expenses on a regular basis. Some of the biggest sports fans are college students just ordinary people looking to scrape by every week and still get in their sports and tailgating. So how else are you going to get that sporting event feel and atmosphere you crave?
Today's tailgate party supplies no longer consists of just a small portable grill that sits on your tailgate, where you grill up a few brats and then go into the stadium for the game. Today's tailgating supplies are new products designed specifically for tailgate parties and nothing else. Of course, this is great for the tailgater.
Tailgate parties, with all the new and interesting products and ideas, have also become a less expensive activity, allowing the big sports fan to be involved in the event, but with a little less expense involved. The tailgate party is it's own event, and with the right stuff for tailgating, it can be as much fun as seeing the game itself.
Start your own tailgating party tradition and create an event that will be remembered long after the game. A few of the latest tailgating supplies and ideas will create just as many memories in the parking lot as in the stadium.
---
Click on the grill trailer for the king of tailgating grills!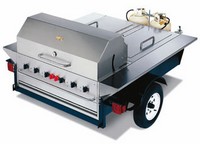 Take a Look at Some New Types of Portable Tailgating Grills

Click Here to See Ideas for Tailgating Food

Check Out Fans Edge for Super Tailgating Supplies

Click On "Portable Canopies" for All-Weather Tailgating

All-Out Power in This Portable Drink Blender...Wow!

Click here if ready to leave Tailgating Supplies and head Home to Texas Barbeques




See The New Portable Tailgating Bar Plans