Outdoor Lighting & Outdoor Lighting Fixtures


Patio Lighting and Outdoor Lighting Fixtures can make a huge difference in the overall design and atmosphere of a deck or backyard area.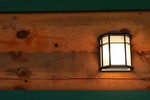 If you have ever been in a backyard where the lighting was poor then you know what I mean. It probably made you wish you were inside and out of the dark. And trying to barbecue or grill at night without decent outdoor lighting fixtures is a disaster waiting to happen.

Assuming you work a regular daytime job and like to barbeque or grill outside more often than just the weekends, then you know it gets dark very early during a good part of the year. By the time you get home, it's already dark, and becomes very difficult to cook.

Many people are using lighting placement and new low-voltage lighting and other applications, along with the newest types of outdoor lighting fixtures to extend their cooking hours well into the evening hours.

If you decide you need to add outdoor lighting to your backyard, you should call a professional if you're not completely comfortable and knowledgeable about electricity. A knowledgeable electrician will be able to show you all the options available, and you will br assured that it is the propert lighting for that area.

---
If you do have the electrical knowledge and good design ideas, by all means do it yourself. It will save you a ton of money and give you that satisfaction and pride you always get when doing a project yourself and doing it well. Just remember that poor design will lead to poor lighting.

Think about the specific effect of the outdoor lighting first, rather than the outdoor lighting fixtures themselves. If you have something that needs to be lit up with a stronger light, then that has to be taken into account. If you just need an overall lighting effect, use softer light.

When shopping for the outdoor lighting fixtures, look for quality. Quality is important because the fixtures will be out in the elements full time. Do not just buy the most expensive, because quite often the expensive ones cost a lot because of their particular style, not their durability.

Look closely at the housing and the overall "feel" of the various light fixures. Are the housings solid feeling, and are they strictly for "outdoor" use? Use your instincts and you very well might get quality at a good price.

Lighting kits are also an option. They come in many style of outdoor lighting fixtures, with all of the connectors and hardware included in the kit. Most kits usually have design ideas also. They serve a specific lighting purpose that does make the lighting design easier for the non-expert.

Look at all your options and use the numerous resources available. Buying an electrical or outdoor lighting design book might help. Or ask the retailers who sell the outdoor lighting fixtures. The most important thing is to be safe and sure whenever working with electricity.

---
Money-Saving Solar Lighting for Your Patio or Garden


---
Look here for Patio & Deck Designs and leave Outdoor Lighting Fixtures


Great Patio Building Ideas & Plans


---