A Charcoal Barbecue Grill & Great Smoky Flavor

---
If you are interested in buying a Charcoal Barbecue Grill either now or in the near future, you probably need to know what kinds are available. Among those, you might want to know enough about each kind of charcoal grill to decide what fits your lifestyle and bbq cooking habits the best.
A Charcoal Barbecue Grill can also vary in price from less than 50 dollars to several hundred dollars, and that might be a big consideration for many. Of course, everybody wants good value in whatever they buy. Getting the right information on a product is a big part of getting good value.


Growing up in the South Texas oilfield, it seemed like every family had a charcoal bbq grill pit that either they or a welder friend made out of an empty 55-gallon drum or a piece of casing(large diameter pipe).


The materials were usually "acquired" from oilfield connections, so there was very little expense involved. The food was usually grilled over mesquite wood because it was so plentiful. You can use hardwood chunks or chips with any charcoal grill, or mix it with charcoal for great flavor.


Since most people do not have every day access to materials like casing and drums, buying a pre-made manufactured grill is a little more practical. That's not all bad, though, as there are some great grills out there with all kinds of features we never had with our 55-gallon drum barbecue pits.
---
Some charcoal grill styles are discussed here, and there is enough basic information about each to at least give you a starting idea of what might be the best charcoal barbecue grill for your outdoor cooking lifestyle. If you are still unsure, there are some other links throughout TexasBarbeques.com that present more info on charcoal grills and other bbq cookers.

Portable Charcoal Grills are just that...portable. They can be moved around the patio or yard. Or they can be easily loaded into a pickup or car trunk and taken to a park or cookout away from home.


Kettle Grills get their name because they kind of look like a kettle. They have a round shape with a dome top and usually stand on 3 legs(2 of them on wheels for nice portability) kind of like a tripod. These charcoal grills are perfect for all-purpose grilling. They are economical as well, usually coming in at well under $100.


The "Drum" BBQ Pit is the closest thing to the 55-gallon drum variety that was mentioned earlier. The metal normally a heavier gauge than an actual drum, so this grill pit will last a long time. It is not very portable because of the size, but it does have a nice large cooking surface to grill plenty of food for larger bbq cookouts.


Another charcoal grill that can have a lot of grilling area is one that is fairly similar to a gas grill. It is rectangular or box-shaped and is usually made out of thick cast iron metal. These are very durable grills that will last a long time given proper care and maintenance.
If a charcoal barbecue grill has a box attached to the side, it technically can be called a smoker. But it is just as effective when used as a grill alone.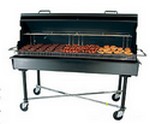 The best way to start the charcoal fire is with a chimney starter. But if you do not have one, here's one set of steps that produces a foolproof charcoal fire and perfect grilling surface every time. And although you use the dreaded charcoal starter with this method, it does not leave the starter taste in the grilled food.
Pile the charcoal inside the bottom part of the grill. Squirt on some charcoal starter...enough to get all the pieces fairly wet. Keep lid open and let soak for about 5 minutes. Then carefully start the fire where it flames over most of the charcoal surface.
The flames will burn for just a couple of minutes, then die out. Do not squirt on more charcoal starter or try and light the fire again. Within about 15 minutes low flames will spring up again. Spread out the charcoal briquettes and when they become white hot the heat is perfect, and you are ready to grill delicious food.
---
Go out and get a charcoal barbecue grill and enjoy great charcoal flavor.


Barbecue Grill Superstore. Buy factory direct and save. Complete selection of Charcoal Barbecue Grills from Arctic and Crown Verity.
This takes you to back Barbecue Cookers and away from the Charcoal Barbecue Grill Page