With the different styles and mass-production of Barbeque Smokers today, you can have a tremendous advantage over the meat smokers from just a few years ago.


Today's bbq smokers come with convenient features and options that allow the typical bbq-friendly family to enjoy the great taste of smoked meat on a regular basis. And because of the competition you get a whole lot more for your money. The quality of most smokers is excellent and the prices are very reasonable.

---
Barbeque smokers for home use are basically separated into two major styles:

- Horizontal BBQ Smokers
- Vertical BBQ Smokers

Horizontal Smokers are generally cylinderical in shape. They usually look like a barrel or drum that has been turned over on its side. They quite often have a square box, called a fire box, attached near the bottom of one end of the pit. This style is called an offset horizontal smoker.
Offset smokers are perfect for keeping the meat away from direct heat or flames. They allow you to infuse the meat with smoke rather than grill it.

Generally, horizontal offset meat smokers are the preferred style used by professional barbeque caterers or in barbeque competitions.

Vertical Smokers are usually cylindrical or drum-shaped as well, the difference being the vertical ones are mounted upright or "standing up". But some styles are rectangular or box shaped. These are usually of a heavier gauge metal and more durable.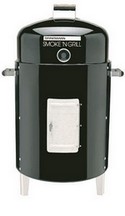 A vertical barbeque smoker generally does not have a fire box. Instead, the fire burns in a tray or well at the bottom of the smoker. There is a little more of the direct heat reaching the meat from the fire. But if watched closely, the heat can be kept low and be very effective at smoking the meat.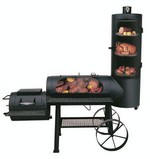 For those that can't decide which of the types of barbeque smokers to get, there is one a smoker that is a little verticle and a little horizontal. This one will hold a ton of meat and can be used as a grill as well.
Professionals generally do not use vertical smokers for their respective businesses. But that's not to say they are any less valuable or not of as good of quality. It's just that their benefits of the vertical smokers are in their portability and ease of use. Delicious smoked meats can definitely be made using vertical smokers.

Look into the different styles and features of barbeque smokers and see which one would make the perfect addition to your barbeque cooking.